✰Anger Management ✰
the abuse cycle & anger management techniques

Home > Relationships > Anger Disorder Management

Does Anger Disorder or violence create havoc in your relationship? Helena Green uses abuse cycle awareness, calming techniques and EFT as anger management strategies.
Anger disorder and abuse often go hand in hand. Yet anger does not have to lead to aggression or violence. It is an emotion that can be a motivator for creating and maintaining healthy boundaries.So it's OK to be angry, as long as you don't harm yourself or anyone else. Next time that your anger finds you losing control, follow the  A..N..G..E..R coping and de-escalating steps.
Awareness - Admit to yourself that you are in fact nagry. Pay attention to what is happening in your body, language and thoughts. That helps you to also discover what triggers your anger in the first place. 

Neutralize - Calm yourself and take a deep breath. Unclench your fists and have a drink of water.

Get Out - Remove yourself from the situation with a time out. Go for a walk or listen to music - Do whatever (not drugs) takes you into a calmer state of mind.

Examine - Ask yourself what triggered your anger. Are you tired or are you revisiting past unresolved issues? Can you identify the source of your anger? What can you do differently next time?

Return & Get Real - Talk to the other person about your feelings, using "I" statements instead of blaming. Stick to the facts and try deep listening in working things out.

If repeated anger disorder that leads to abuse becomes a pattern in your relationship, chances are that this behavior was learned in childhood. That means courage, awareness and commitment to undo familial patterns. Violence stems from various scenarios yet often it is caused by jealousy and infidelity.
The Violence Cycle
The anger, abuse and violence cycle goes something like this.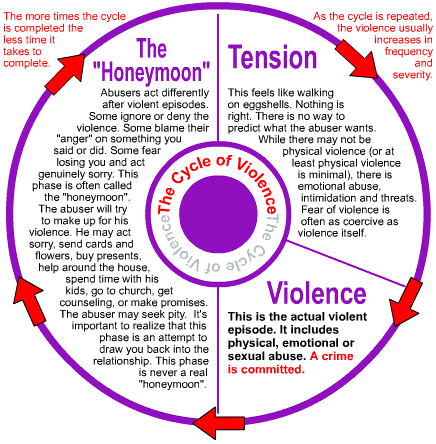 Anger Management Strategies
It is up to you to de-escalate the anger disorder and abuse cycle dynamics. Use simple anger management techniques to stay balanced and reasonable, such as -
Stop blaming others.
Accept your angry feeling as an emotion telling you that something is wrong.

Use self control early on. 

Use calming techniques when you feel your anger begin to escalate.
Using violence, abusive language or threats are unacceptable.

Take a time out.

Consider the consequence of your actions, both now and later.

Be honest.

Be specific on what you feel the real problem is.

Don't get into a power struggle and maintain dignity for everyone.
Be fair and generous. Deep listening works wonders.
Meridian Tapping (EFT) is mother technique that you can learn and employ when you need it most.  With awareness and practice, you have a variety of strategies and tools to use in order to keep your emotions from taking over.
With awareness and effort, you can change patterns that may have been in your family for generations. You do have a choice. Helena Green is a Master Therapeutic Counsellor with the Crime Victim Assistance Program,under British Columbia's Ministry of Public Safety and Solicitor General, Victim Services and Crime Prevention Division. Counselling for the Health of It is equipped to give you the support in creating stability, calm, respect and care in your relationship. The first step is for you to take now.
Deep listening. Clarity. Sustainable Solutions.
---
Helena Green, BA EFTCP MRP MPCC

Master Practitioner in Clinical Counselling

Certified Energy & Somatic Psychology
(EFT & Matrix Re-imprinting) Practitioner

phone:(403) 986-0106
email: helenagreen@shaw.ca

Counselling for the Health of It
Red Deer, Alberta
Return to Home